DSEI 2023

Date:
12 to 15 September 2023
Location:
Excel, London UK

View Event Website for More Information
DSEI 2023, held in London from 12 to 15 September, brings together the defence and security industry to source the latest equipment and systems, develop new relationships and generate international business opportunities.
The ExCel venue in London's docklands provides an ideal setting for demonstrations of vessels, including high speed craft for tackling security threats and unmanned surface vehicles.
DSEI is recognised by defence procurement agencies around the world as a milestone opportunity to evaluate the full spectrum of maritime defence and security products, technologies and equipment, from the latest warships and craft design to advanced new systems for surveillance, communication, weapons, sensors and navigation.
The Naval Zone at DSEI 2023 is an interactive showcase of the latest vessels and technology. The zone focuses on topics of current importance to the maritime community including maritime security, power projection and future naval ship design.
The dedicated Naval area is proudly supported by the First Sea Lord, Admiral Sir Ben Key KCB CBE, and the Royal Navy, showcasing cutting-edge vehicles, weapons, sensors and equipment from global innovators.

The Naval Forum includes the following topics:

- International collaboration as the key to mitigation of the climate change impact on future Naval Operations.
- Delivering global support in a sustainable, environmentally compliant, cost-effective manner.
- How can data-driven technologies help a force operate in changing climactic conditions and harsher environments?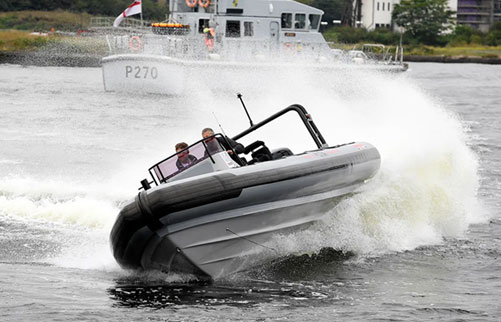 All images are copyright RIB & HSC - Shock Mitigation 2023 unless otherwise stated.
This does not exclude the owner's assertion of copyright over the material.