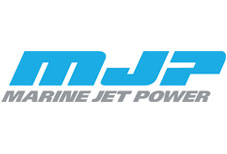 Marine Jet Power (MJP) has designed and manufactured high performance waterjet propulsion systems for over 30 years. Based in Sweden, MJP is a global supplier of waterjets with a support network in EMEA (Europe, the Middle East and Africa), North & South America and the APAC (Asia Pacific) region.

Commercial operations utilising MJP propulsion and control systems include fast passenger ferries, windfarm support vessels, offshore industry, workboats, fire fighting and towing.

Military and government end users with uncompromising demands for heavy-duty engineering include navies, coast guards, border forces, marines and special forces.

MJP waterjets are specified on patrol vessels, landing craft and high speed interceptors to deliver speed, manoeuvrability and reliability in dynamic situations.

View Marine Jet Power Products
Applications: Commercial / Military
Engine Sizes: 100 to 1340 kW / 134 to 2172 hp
Characteristics: Lightweight / Compact / Durable
MJP Control System: Mechanical or Electronic


Applications: Commercial / Military
280 X - Waterjet: 580 kW - Power
310 X - Waterjet: 700 kW - Power
350 X - Waterjet: 900 kW - Power


550 CSU - Waterjet: 2500 kW - Power
650 CSU - Waterjet: 3000 kW - Power
750 CSU - Waterjet: 4000 kW - Power
850 CSU - Waterjet: 6000 kW - Power


Videos