Superb Group of Presenters for NEXT GEN 2019

15.01.2019
The NEXT GEN 2019 programme combines hot topics and international maritime experts with dynamic panel discussions. End-users and industry come together to share what really works at sea. Fast moving sessions link cutting edge innovation to traditional marine safety.
A superb group of presenters have been announced for 3 one day Marine Safety Workshops at Grand Harbour, Southampton UK.

John Haynes – Workshop Lead
Man Overboard Workshop Introduction and Overview

Captain Andrew Moll
Deputy Chief Inspector, Marine Accident Investigation Branch (MAIB)
Lessons Learned from Recent Man Overboard Incidents

HM Coastguard – Maritime Operations Controller
How a Man Overboard Rescue Evolves at the Control Centre

Lewis Arnold – Operations Manager (Lifeboats), RNLI
How Do We Keep Our Rescuers Safe At Sea

Alistair Hackett – Managing Director, Ocean Safety
Developing Integrated and Effective Life Saving Solutions

PANEL DISCUSSION
How can we Attach People to Boats with Strong Points, Harnesses & Tethers?

Paul Savage OBE – Maritime Medical Solutions Consultant, Saviour Medical
Breaking the Historical Paradigms of Maritime First Aid Training

Jon Lewis – Maritime Command, UK Border Force
Making Man Overboard Exercises More Realistic and Effective

Bill Swanton – Survival Officer, Institute of Naval Medicine
Sea Survival Training and Effective Methods of MOB Recovery

Subject Matter Experts – Safety Industry Technology
How Autonomous Marine Vessels and Aircraft Could Be Utilised for Search & Rescue

PANEL DISCUSSION
When can Electronic Signals or Laser Flares be used versus Pyrotechnics?


Commander Adam Northover
Fleet Navigator & Seamanship Officer, MoD Boats Manager - Royal Navy
Why Fundamental Seamanship and Simple Navigation still matter in the Digital Age

Captain Don Cockrill MBE FNI
Secretary General, UK Maritime Pilots Association (UKMPA)
Maritime Situational Awareness - Determination, Perception and Integrity

James Fanshawe CBE
Chairman, Maritime Autonomous Systems Regulatory Working Group
What does Autonomy mean for Maritime Safety?

Kent Clarke – Military Business Development Manager, David Clark Company
Effective Communications for Extreme Marine Environments

Dr Spike Briggs – Managing Director, Medical Support Offshore
Integrated Remote Healthcare at Sea in the 21st Century

PANEL DISCUSSION
How can we use Dynamic Risk Assessment to improve Safety at Sea?

Duncan King – Head of Amphibious Trials & Development, Royal Marines
Challenges of Trialling Boats and Equipment in a Changing World

James Coker – Account Manager Northern Europe, Seakeeper
A Stable Vessel is a Safer Vessel

Simon Wood Power – Managing Director, Supermarine Powerboats
The Reality of Familiarity Breeding Contempt on High Speed Craft

James Glover – Managing Director, DYENA
Utilising Vessel Data Monitoring to improve Crew Safety

PANEL DISCUSSION
Are Digital Navigation Systems Becoming More or Less Complicated?

John Haynes – Workshop Lead, MD Shock Mitigation
Global Perspective on Shock Mitigation and the Reality at Sea Level

Pete Sheppard – Senior Naval Architect, RNLI
The Challenges of Integrating WBV Mitigation into Existing Fleets

Andrew Hughes – Business Development – Europe, SHOXS
Cutting edge update on suspension seating innovations and technology

Phill Moxley – Senior Engineer, Frazer-Nash Consultancy / BS WBV Panel
Update on British Standards Whole Body Vibration Panel

Sean Gerrett – Sales Manager, Shockwave
Cutting edge update on suspension seating innovations and technology

PANEL DISCUSSION
How do we evolve our knowledge of Vertical to Multi Axis Solutions?

Dr Thomas Coe – Whole Body Vibration and Noise Specialist
Presentation Title TBC

James Taylor – President & CEO, SKYDEX Technologies
Non-Mechanical Shock Mitigation Solutions for Sitting and Standing on Planing Craft

Jonathan Young – Managing Director, Scot Seats
Cutting edge update on suspension seating innovations and technology

Hans van der Molen
Head of Technical Projects & Innovation, KNRM (NL Lifeboat)
Presentation Title TBC

PANEL DISCUSSION
What quick and simple methods Reduce Risk of Injury on Fast Craft?

Event Manager: Julie Arthur +44 (0)7449 000228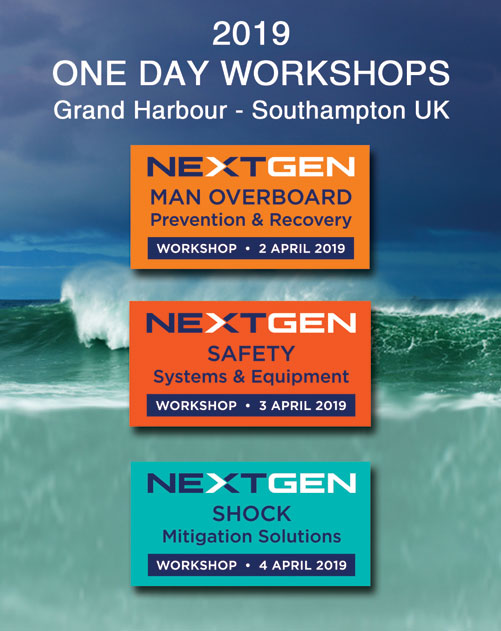 All images are copyright RIB & HSC 2023 unless otherwise stated.
This does not exclude the owner's assertion of copyright over the material.